Image

Get Guaranteed Lawn Care in Annandale
Lawn Care in Annandale
Everybody wants that gorgeous, manicured, green grass that they see in magazines, online,  and on TV. Getting your lawn to look like that however, is far easier said than done without the right experts in your corner. Our expertly-trained lawn technicians will have your grass looking its best with services like: 
Seasonally-adjusted lawn Fertilization 
Year round weed Control
Seasonal aeration and Seeding 
Plant Health Care 
Lawn disease Control
And many more!
Thoughtful Service with Eco-Friendly and Reduced-Risk Products
Getting the lawn of your dreams doesn't need to come at the cost of putting those closest to you at risk or doing harm to your local environment. While some of our competitors rely on harsh chemicals and unsustainable methods, we do things differently. In fact, our commitment to using reduced-risk, low-impact products as part of our lawn care treatment service has made us a Virginia Green and Clean company since 2017!
Image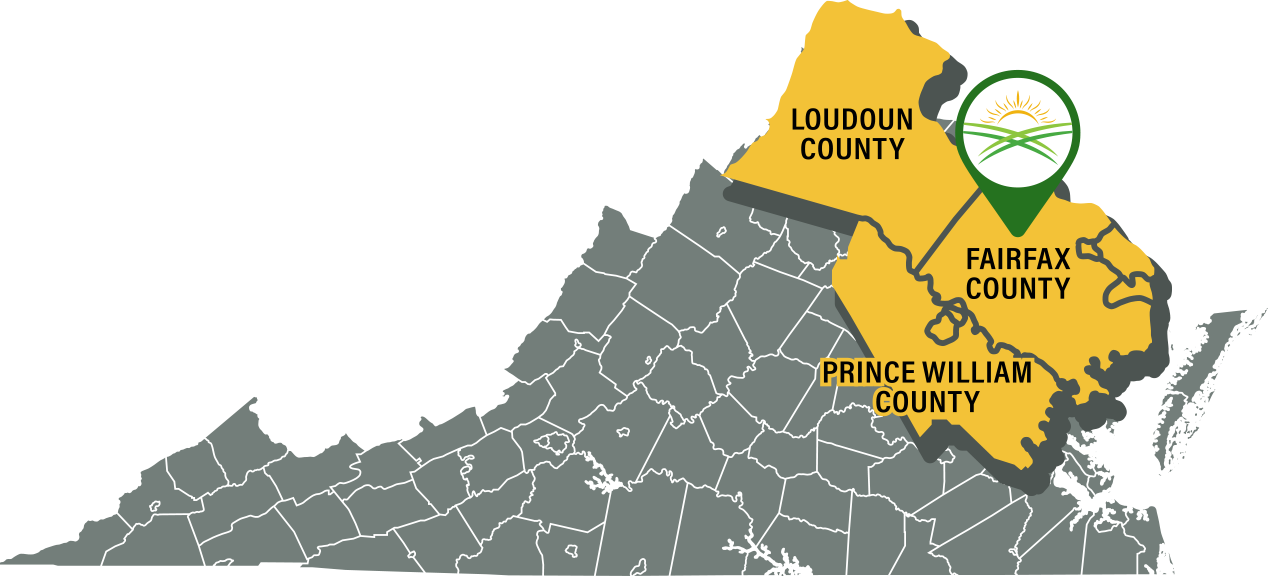 A Lawn Service Company You Can Trust
It's important to partner with a lawn care company that you can depend on to get the job done every time. Here at Nuleaf Lawn Care, we take a personalized, flexible approach to lawn care service that you can count on to deliver the results that you deserve. Your grass works hard for you all year, so show it some love with help from Virginia's best today!
Our lawn care program includes:
A thorough inspection and soil analysis from a local lawn care technician.
A customized lawn care plan that we'll adapt to your unique needs.
Industry-best lawn care tools and organic products. 
Year-round nutrition and soil building to create a healthy growing environment for your grass. 
Pollinator-friendly insect control products.
A lawn that you'll love, no matter what!
Guaranteed Results Every Time! 
Getting professional lawn care is no small commitment so you deserve a company that goes above and beyond for you. That's why we at Nuleaf Lawn Care are proud to back up each service we provide with a full satisfaction guarantee! If you're not happy with our service or if our results don't meet your standards, let us know and we'll make things right.
Aeration and Seeding in Annandale
Have you noticed your lawn looking a bit lackluster lately? Perhaps your grass is thinning or has stopped growing altogether. Or maybe you've begun to notice an increase in weeds or areas of standing water after it rains. If so, your grass is in desperate need of lawn aeration and seeding in Annandale! Here at Nuleaf Lawn Care, we specialize in providing top-quality aeration and overseeding service to communities across Northern Virginia. With us on your side, you can count on your grass staying healthy and looking its best all year so don't let your lawn languish for another day and give us a call! 
Benefits of quality aeration service include:
Looser soil which will allow your grass roots to grow with no obstacles. 
Increased levels of soil oxygen.
Easier access to water and nutrients for even stressed turfgrasses. 
Reduction in the levels of standing water on your lawn which will help prevent fungus and disease. 
Healthier and more sustained growth which will allow your grass to outcompete nuisance weeds.
A more dense and robust appearance when aeration and lawn seeding services are done in conjunction with one another. 
And much more! 
Plant Health Care in Annandale
The trees and shrubs on your property require special care different from your lawn care program. These plants are a significant investment that yield many benefits to you and your family, so it's only fitting that they receive the care they need so you can enjoy them for years to come. Your trees and shrubs are only as strong and healthy as their root systems. That's why at Nuleaf we start from the ground up! 
Our plant health care program in Annandale will provide year-round benefits including:
Plant care experts who carefully attend to the unique needs of your Virginia trees and shrubs.

Deep-root nutrient and biostimulant applications

to boost plant health.

Pest control and

disease management.

Soil amendments for

improved soil structure through aeration, water retention, and nutrition. 

Our comprehensive

7-step plant health care program

designed to monitor, protect, and

invigorate your treasured ornamentals. 
Nuleaf's Comprehensive 7-Step Plant Health Care Program
Caring for the many types of trees and shrubs on your property takes work. A one-size-fits-all approach simply won't work! That's why Nuleaf offers a customized plant care approach for your property:
Application 1 -

Insect protection

through our horticultural oil spray application to

eradicate any remaining winter pests

and their eggs. 

Applications 2-5 -

Spring fertilization

to replenish nutrients your large plants may have lost over the winter months.

Fungal disease protection

through a systemic fungicide application to protect susceptible plants. During these visits, we will monitor your plants and apply

insecticide and miticide.

In the fall, our

slow-release fertilizer application

will keep your plants well-fed in the cooler months. Ongoing monitoring can be expected at this time. 

Application 6-

Dormant oil application

to provide disease control for optimum plant health. 

Application 7 - To ready your trees and shrubs for the winter months, we'll apply

Winter Guard anti-desiccant

which is a protective coating to minimize winter moisture loss.
Environmentally and Family-Friendly Plant Pest Control
Combating aphids, the Emerald Ash Borer, mites, fungi, and other pests and diseases that plague your large plants is overwhelming. Prevention and timely treatment are critical to protecting your living investments. Our expert arborists apply EPA-approved family-friendly and organic products to minimize the impact on your family and the environment for your Annandale home or business. 
Natural Mosquito Control in Annandale
Mosquitoes can sabotage your seasonal outdoor plans quickly! The annoying buzzing near your ear is only a small part of the problem. Mosquito bites can cause serious allergic reactions and spread dangerous diseases like the West Nile virus. The presence of mosquitoes on your property can be a significant disruption to your safety and enjoyment of your home. Nuleaf's mosquito exterminators in Annandale are your natural solution to protecting your family, pets, and guests. You can choose either our 100% organic solution or our naturally derived solution to give you safe highly effective options for your mosquito removal. 
Protect Your Family and Your Time Outdoors
As a leading local mosquito control company with a 4.9-star rating, you can expect a quick and reliable response to your mosquito problem along with natural mosquito treatment options that will eliminate these harmful pests so your family is protected. 
When you partner with us for mosquito treatment in Annandale, you can expect:
A thorough inspection

of your property to identify mosquito breeding areas. 

The use of

specific essential oils

to eliminate mosquitoes and their eggs. 

Mosquito prevention strategies you can use to prevent further infestations. 

In2Care natural mosquito bait stations

to attract any future mosquitoes and kill them.  

Free re-treatments

if you are not completely satisfied with your results!
In2Care Mosquito Stations For Long-Term Protection
As part of your prevention plan, your Nuleaf mosquito control expert can install In2Care mosquito stations outside your home to trap and kill any future mosquitoes. The unique green and family-friendly ingredients attract and trap larvae while adult mosquitoes carry the biocide to nearby mosquito breeding areas killing off any remaining mosquitoes. In2Care stations will naturally keep your outdoor spaces mosquito-free!