5 Trees That Will Improve Your Virginia Lawn
Image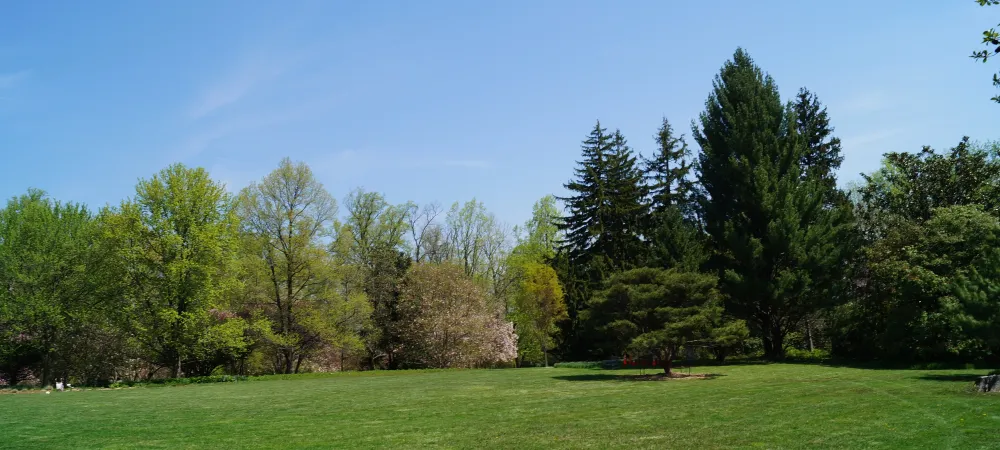 Those of us who live and work in Northern Virginia are surrounded by our famously blue-tinged mountains, expansive woodlands, and crystal clear bodies of water. In the fall, our vast array of trees turn brilliant hues of red, yellow, orange, and purple. As the weather turns cooler and the days become shorter, deciduous trees shut down their chlorophyll production ceasing the green color that usually exists. When this happens, the underlying pigments begin to show. Sugars trapped in the leaves produce these vibrant colors we've all come to love. Of course, how dynamic they look depends a lot on the weather. To have an abundant amount of fall foliage, sunny days and cool nights are needed at the beginning of fall. Factors such as extreme heat and drought during the summer can lessen the intensity of fall color. Still, if you are looking to capture the colorful palette of autumn in your own backyard, here are five trees that will make an impactful statement.
The Red Maple
Called the red maple, sometimes this effervescent tree actually turns yellow or orange, depending upon the weather conditions. But if the conditions are right, it provides a dazzling red color sure to please any eye. The red maple can grow up to 70 feet tall and has a distinct shape with smaller leaves than most maples. It is a great tree for shade and has small flowers that bloom for a short time in the spring attracting bees, butterflies, and other pollinators, These delightful trees are easy to maintain, grow well in full sun and partial shade, and can be grown in just about any soil, although they prefer well-drained and slightly acidic.
The Sugar Maple
Yep, you guessed it! This popular tree is responsible for producing the delicious maple syrup Americans have grown to love. It's also known for its prominent structure ranging in height between 40 and 80 feet and 30 to 60 feet wide. Branching out in an oval shape, they produce an abundance of shade. Sugar maple trees have leaves that resemble the form of a hand with five lobes that extend out like fingers. Red maples and sugar maples are easily confused, but you can tell the difference through their leaves. Sugar maple leaves are smooth, while the red maple leaves are edged. This handsome deciduous tree loves the sun and will grow in just about any soil condition, but like its counterpart, the red maple, it prefers its soil to be well-drained and slightly acidic. In the fall, you can expect leaves to turn a sharp yellow, orange, or red.
The Flowering Dogwood Tree
Dogwood trees are some of the most popular and most beautiful flowering trees in Northern Virginia. These beautiful trees come in many different shapes and sizes, making it super easy to find the perfect one for your landscape. And better yet, the flowering dogwood is Virginia's state tree. This beloved tree is known for its spring display of delicate flowers with a faint yet pleasant-smelling odor. The flowers can be white or pink and make a good attraction for pollinators. In the fall, the flowering dogwood turns a reddish-purple and produces clusters of white berries. If you decide to plant a flowering dogwood, know that it prefers partial shade and well-drained acidic soil.
The Sweet Birch Tree
This beautiful yet amazing tree isn't just a fall eye-catcher; nearly every part of the sweet birch can be harvested and used. The twigs, leaves, and inner bark of this tree have a strong wintergreen scent and are used to produce wintergreen oil. Its sap can be used for making syrup and birch beer. Many years ago, the sweet birch was used to create medicine and make candles. It also makes a great showpiece for any landscape. Standing between 50 to 75 feet tall, its foliage turns bright yellow which stands out in contrast to its shiny brown bark. The sweet birch grows well in moist yet well-drained, slightly acidic soil. It also prefers full direct sunlight.
The Sassafras Tree
Another tree with a pleasant-smelling aroma is the sassafras tree. Long grown for its medicinal properties and fine powder, the leaves of the sassafras tree turn vibrant shades of orange-pink, yellow-red and scarlet purple in the fall. These mitten-shaped leaves can also be used as a seasoning for cooking. Birds and other wildlife love the dark blue fruit it produces in the fall.
The sassafras tree typically grows to heights between 30 and 60 feet with a spread of 25 – 40 feet. It prefers full sun to partial shade and grows best in acidic, well-drained soil. If you are looking for beauty and scent for your Northern Virginia property, this delightful tree might be for you
Protect and Keep Your Beloved Trees and Shrubs Healthy With Tree and Shrub Care Provided by the Professionals at NuLeaf Lawn Care.
So how do you protect your trees and keep them healthy? NuLeaf Lawn Care offers a unique tree and shrub care program known as our plant health care program. Whether your trees are older or newly established, we want them to succeed. Our five-step plant health care program includes nutrients and bio-stimulants, insect pest management, disease management, and soil conditioner. Unsure of what trees would grow best on your specific property? We can help with that as well.
Learn more about our tree and shrub care by visiting our website now, contacting us using our online form, or giving us a call.
For more informative articles like this one, check out our monthly blog.