Image
An Eco-Friendly Alternative for Mosquito Control
Organic Mosquito Control in Fairfax County
Spring in Fairfax County doesn't just bring warmer temperatures. It also brings annoying, blood-sucking mosquitoes. Both can carry harmful diseases to your loved ones and pets, and nothing can ruin your outdoor fun faster than dealing with a bunch of itchy, red welts. It's time to take back your yard and start enjoying the outdoors again with Nuleaf's Mosquito Control in Fairfax County.
We offer two different options for fighting off these pesky insects:
Our

100 percent organic solution

Our

naturally derived solution

.
Both are highly effective at combating these pests while also protecting the environment. Better yet? Neither poses a risk to your family or pets.
Safe, Natural Protection for Your Family and Loved Ones
Our goal is to provide our clients with the best landscapes possible through science using ecologically friendly safe services for your family and pets. We follow all integrated pest management protocols and are members of the Virginia Green and Clean Initiative. When you invest in NuLeaf's mosquito control in Fairfax County, you can be confident you are protecting your family safely and naturally.
Stop dealing with this nagging pest and contact NuLeaf today!
Mosquito Services Utilized to Take Your Summer Nights Back
Using only ingredients that meet the USDA's national organic program standards, our 100 percent organic mosquito control consists of rosemary oil and cedar oil. Together, they offer a quick way to knock out adult mosquitoes. At NuLeaf, we are committed to protecting the environment. Utilizing lawn care techniques and science, our organic solution contains essential oils that disrupt the neurotransmitter function of certain flying and crawling insects, including mosquitoes. However, it is completely safe for birds, dogs, cats, fish, and humans. It may even be used near or over open water without any worry of it harming aquatic wildlife or fish.
When you partner with NuLeaf for mosquito control in Fairfax County, you can expect: 
A thorough inspection to depict exactly where these insects are breeding.

Implementing our organic products in key areas to stop infestations. 

Help identify action items you can keep in mind to help them stay away for good.
Our highly-trained technicians know where mosquitoes live and breed in Fairfax County and which areas of your yard to target. Starting in April, we will treat your lawn with nine separate visits that last through October.
One-Time Event Treatment Mosquito Control
Planning a special event such as a graduation party or wedding? Don't allow bothersome mosquitoes to ruin your big day. NuLeaf's single mosquito control application will help reduce the population on your property and stop them from wreaking havoc on your guests. We apply a barrier spray around your property 24 hours before your event, putting mosquitoes in their place and providing you with peace of mind.
Areas We Service in Northern Virginia
We're proud to serve NOVA and our fellow Virginians by providing holistically healthy lawns and customer-centered service. We know we're being successful when our customers are happy, our environment is healthy, and our communities thrive.
Image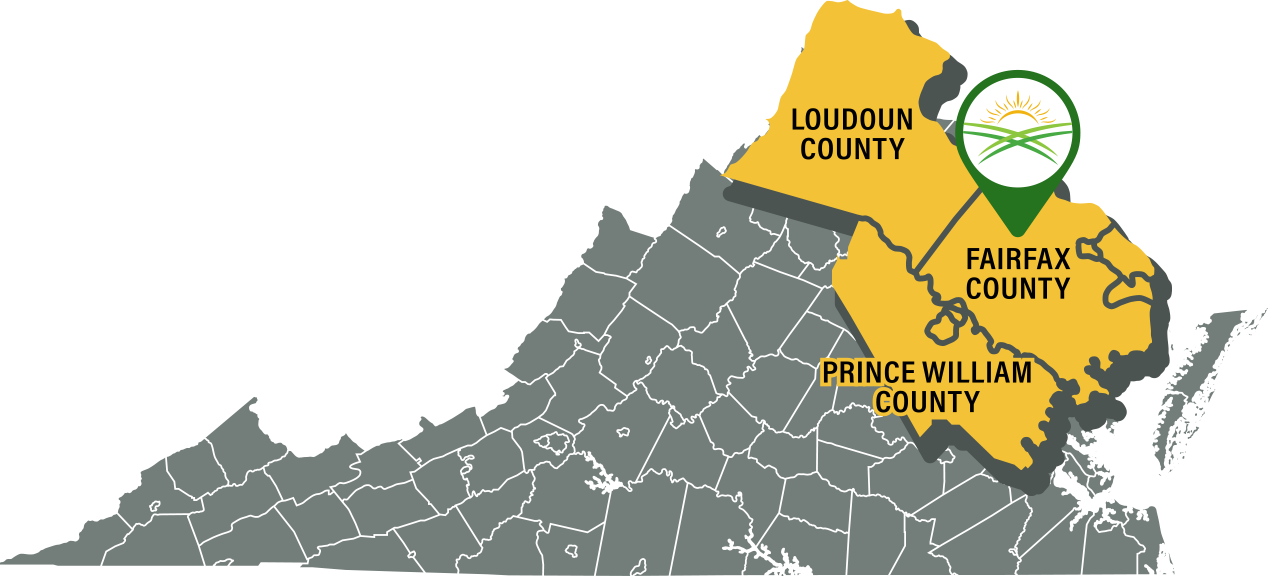 Check out our Lawn Care Packages