Image

Reliable Lawn Care Services in Burke, VA
Lawn Care in Burke, VA
As a lawn care company, we at Nuleaf strive to provide the most reliable services to our customers! Our services come with a 100% satisfaction guarantee. If you're not satisfied with the outcome of our lawn treatment, please inform us! We offer free unlimited service calls for items covered on your program as well as free re-treatments.
Our Lawn Care Services in Burke Include: 
Lawn Fertilization 

Weed Control

Aeration and Seeding 

Plant Health Care 

Disease Control

And More!
Image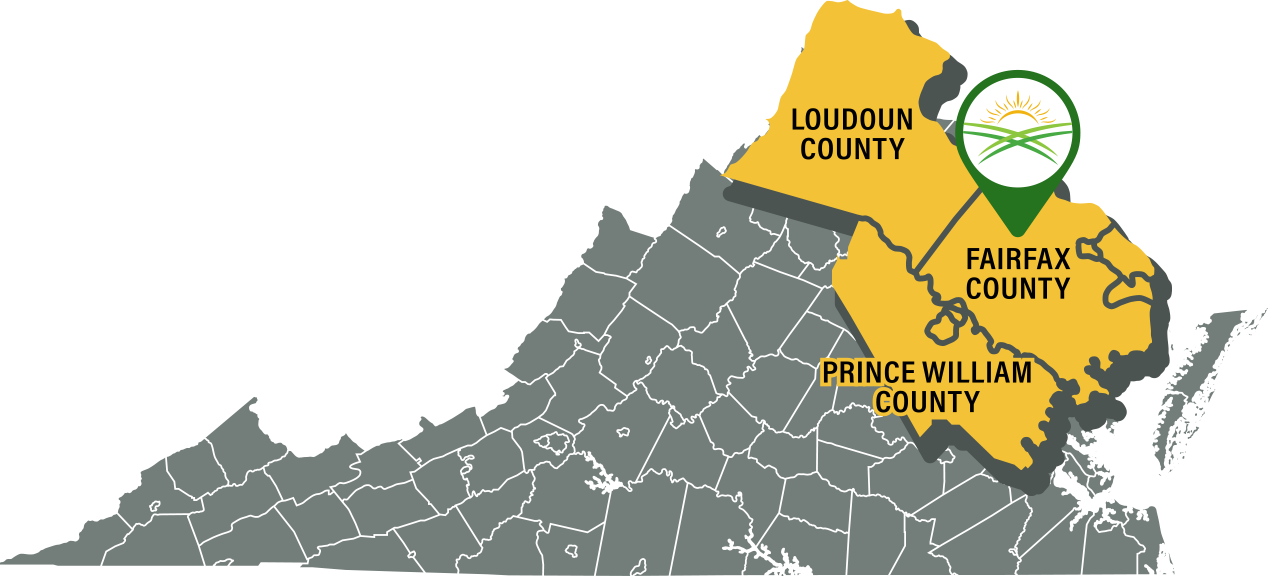 Aeration & Seeding in Burke
Virginia soil is composed mostly of dense clay, and less loose earth. This means that naturally, even lawns receiving the best of care get compacted over time. When soil is compacted, the flow of water and essential nutrients to grass is constricted.
Aeration is the solution to soil compaction. Our core aeration and overseeding in Alexandria opens up your soil so that your grass gets what it needs to thrive and seed has lots of room to grow. We use a double-pass method for thorough coverage and only use the best, Blue Tag certified seed on the market. 
When you choose Nuleaf for aeration and seeding, you'll notice benefits such as:
Reduced soil compaction.

Reduced water runoff and puddling.

Strong grass that outcompetes weeds.

Thicker, greener grass.

Decreased yellow thatch buildup.
If your lawn looks like it needs a refresh, call Nuleaf for a high-quality aeration and seeding service that renews your lawn from the inside out.
Organic Mosquito Control in Burke
Your yard is not your own when you are battling mosquitoes. These blood-thirsty insects will win every time! The troublesome and painful welts can cause severe discomfort and allergic reactions. Even worse,  mosquitoes can transmit dangerous viruses like Dengue, West Nile, and Zika.You can try to handle your mosquito control on your own, but these flying vampires will be back. Take back your enjoyment of your home and safeguard your family with NuLeaf's eco-friendly Mosquito Control treatment. We've created a spray solution made of a blend of rosemary and cedar oils to naturally manage and eradicate your mosquito problem. 
NuLeaf's mosquito exterminators in Burke will provide you with:
A careful review of your property

to identify and isolate the breeding areas. 

A

family-friendly mosquito treatment

that eliminates mosquitoes at

every stage of their life cycle.

The flexibility of choosing

100% organic solution or our naturally derived solution.

Prevention strategies

and resources to keep your property mosquito-free in the future.

Seasonal treatments

that start in April and continue until mid-October so you have protection when you need it most!
Complete Protection with Our In2Care Mosquito Stations
Your solution to long-term mosquito control just got easier! NuLeaf's commitment to providing the greenest eco-friendly mosquito prevention is complete with our In2Care mosquito stations. By strategically placing these systems in shaded areas on your property, female mosquitoes are lured into the station coming in contact with an EPA-approved bio-insecticide. She transports this substance back to breeding areas and the mosquito population is controlled.
The benefits of In2Care station installation include:
A significant reduction in mosquitoes

in your outdoor spaces. 

Protection from dangerous viruses

like Zika and West Nile.

Elimination of adult mosquitoes and their young larvae!

Bio-friendly mosquito removal

using a green solution to

limit toxins

in your yard.

24/7

protection.

Natural and safe

protection for your children and pets.
Get Your In2Care Installation Today!
Effective One-Time Mosquito Treatments in Burke
The warmer weather in Burke is a time for joyful gatherings. Do you have a one-time special event coming up? NuLeaf's single mosquito control application will significantly reduce the number of mosquitoes on your property for your event. Our mosquito exterminators will spray a protective barrier 24 hours before your event so you and your guests can create beautiful memories without swatting away mosquitoes. Leave the stress and worry to us, and allow our trained technicians to treat your yard without the use of harsh insecticides.
Plant Health Care in Burke, VA
If you're looking for professional plant health care services in Burke, Virginia, you're in the right place. The team at Nuleaf team is dedicated to ensuring that your plants thrive and stay healthy. With our expert knowledge and experience, we provide a range of services to meet your needs:
Nutrients and Biostimulants:

We provide essential nutrients and biostimulants to enhance the overall health and vigor of your plants.

Insect Pest Management:

Our team is highly trained in identifying and controlling insect pests that can damage your plants. 

Disease Management:

We are skilled in diagnosing and treating various plant diseases, and implementing effective management strategies to protect your plants.

Soil Conditioner:

Healthy soil is the foundation for healthy plants. Our soil conditioning services focus on improving soil structure, fertility, and nutrient availability.
Our professional plant health care services in Burke, VA, will ensure the health and vitality of your plants. From nutrient management to pest control and disease prevention, we have the expertise to meet all your plant care needs.
Lawn Disease Control Program in Burke, VA
One significant factor is the presence of fungi, which thrive in areas with excessive moisture and poor airflow. Another key contributor is improper watering practices. Inadequate nutrients in the soil can also weaken the grass, making it more susceptible to diseases. When it comes to controlling lawn diseases, our professional lawn disease treatment services in Burke, VA, offer effective solutions. 
Our team of lawn disease treatment experts will: 
Conduct a thorough assessment of your lawn to identify any existing diseases or potential risks. 

Tailor a targeted treatment plan to address your specific needs.
Our lawn disease control services include the application of specialized fungicides, which target and eliminate harmful fungi responsible for the diseases. Additionally, we will guide proper watering and maintenance practices to create an environment that discourages disease development. Contact Nuleaf today for lawn disease control in Burke, VA
Bermuda Grass Control in Burke, VA
Bermuda grass control is essential for maintaining a healthy and beautiful lawn. Bermuda grass is a tough and invasive weed that can quickly take over your yard if left unchecked. Our professional Bermuda grass control services in Burke, VA, can help you get rid of this persistent weed and restore the beauty of your lawn!
Our Bermuda grass treatments in Burke, VA, include:
State-of-the-art equipment

Target the Bermuda grass and eliminate it effectively

A team trained to assess the extent of the problem

Customized solutions tailored to your specific needs
We use products that are safe for your family and pets. By choosing our Bermuda grass control services, you can save yourself the hassle of trying to tackle this problem on your own. Contact Nuleaf today for professional and reliable Bermuda grass control services in Burke, Virginia.
Committed to the Environment
NuLeaf is an environmentally conscious lawn care company. As a participant in the Virginia Green & Clean Initiative, we utilize science and technology to get the best results for our customers. Our application methods, training, products, integrated pest management techniques, and firm commitment to the environment are what differentiate us from our competitors. Keep your loved ones or pets safe by partnering with us for your lawn care needs.