Image

100% Satisfaction-Guaranteed Lawn Care in Alexandria, VA
Lawn Care in Alexandria, VA
Is your lawn in need of a transformation? Lawns in Alexandria require precision and detailed care to look their best, so it is important to consider the unique needs of your lawn. Partner with Nuleaf Lawn Care in Alexandria, VA, for the customized lawn care approach your property deserves. Our team of lawn care specialists will carefully analyze your lawn's grass species, soil type, slope, and surrounding environment to develop the most effective lawn care treatment plan. 
We offer the following lawn care services in Alexandria:
Soil testing and management 
Disease Control
And many more!
Image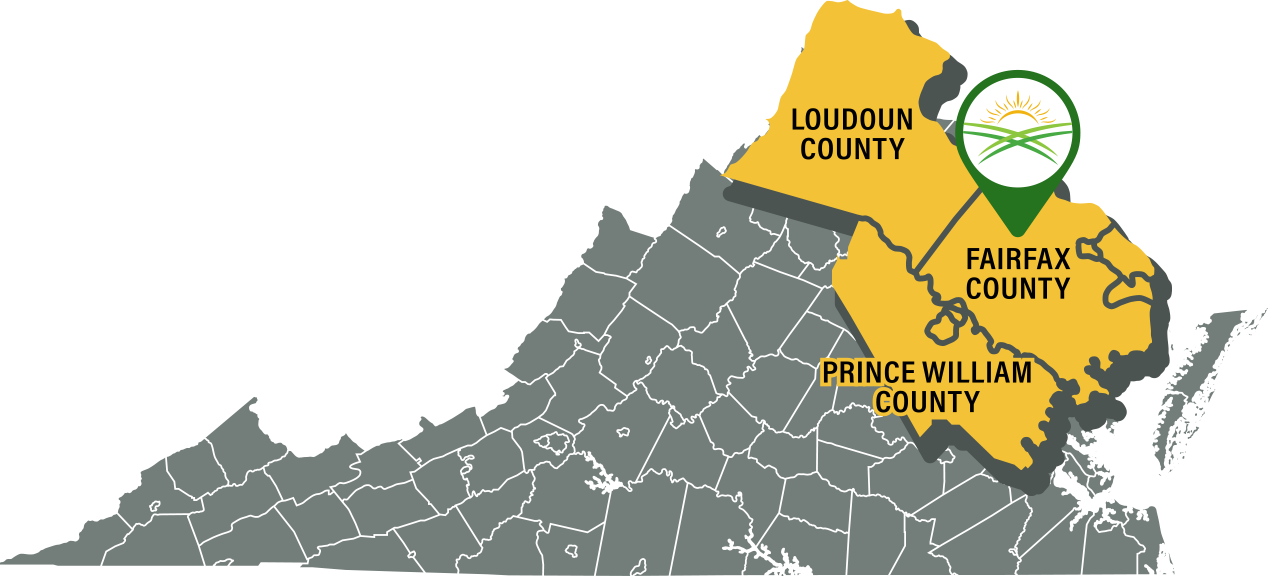 Expert Lawn Services in Alexandria
Nuleaf's team features professional agronomists who are experts in soil management. Understanding the soil of your lawn is essential in determining the needs of your lawn. Our team's high level of expertise allows us to provide treatment that will yield the best results. 
Nuleaf's lawn care services in Alexandria offer:
Soil tests conducted by our lawn care experts. 
Treatment plans developed by our Certified Nutrient Management Planner and lawn care technicians.
Environmentally friendly products and treatments. 
Glowing results!
Aeration & Seeding in Alexandria, VA
Is your lawn looking thin or discolored despite your best efforts? Compacted soil is probably the culprit. Soil gets compacted over time by regular foot traffic. Compaction constrains grass roots and limits the flow of precious water and nutrients. Fortunately, aeration is a technique that was developed to solve soil compaction by making tiny holes throughout your lawn to give your turf more room to access the water and nutrients that it needs. At Nuleaf Lawn Care, we provide aeration service in Alexandria supplemented by lawn seeding to renew your lawn for the long term.
Our thorough aeration and seeding process includes:
A yard inspection to chart the path of a core aeration machine.
Mechanical aeration that pulls plugs of soil and leaves holes that decompress to relieve compaction.
Introduction of beneficial microbes by leaving plugs of soil to break down.
Overseeding with blue tag certified premium seed for optimum coverage and new growth.
More vibrant and damage-resistant grass over time!
Plant Health Care in Alexandria, VA
At Nuleaf, we understand there is more to maintaining a beautiful landscape than sustaining thick, healthy grass. An aesthetically appealing yard may also contain a variety of lawn ornamentals, shrubs, gardens, and colorful vegetation. Like your turf, these living plants also need compassionate care and nurturing. That's why our 7-step plant health care program was designed exclusively for the plants, trees, and shrubs that grow in Alexandria.
Believing that plant health starts from the ground up, our successfully proven program contains all the nutrients, soil conditioner, and insect and disease management necessary to maintain the health and protection of your beloved lawn decor.
When you invest in plant health care with Nuleaf, you will benefit from the following:
Fertilizer custom blended with nutrients and biostimulants for enhanced nutrition efficiency.

Horticultural oil to help protect against overwintering insect damage. 

Fungicide to help prevent and inhibit disease growth.

An alternative approach rooted in science offering the most innovative techniques

Use of integrated pest management practices and only safe, eco-friendly products.
Something eating away at your trees? Contact the professionals before it's too late. Allow our specialized arborists to assess the type of insect and the amount of damage. We offer environmentally safe insect pest management techniques and disease-preventing options.
Mosquito Control in Alexandria, VA
When it comes to professional mosquito control services in Alexandria, Virginia, there are a few key points to consider. Mosquitoes can be a nuisance, spreading diseases such as Zika and West Nile virus. Hiring a professional service is essential for effective and long-lasting mosquito control. Nuleaf has the knowledge and experience to 
Our mosquito treatments in Alexandria, VA, will:
Identify and target mosquito breeding areas

Use state-of-the-art equipment and techniques

Provide thorough mosquito control 

Ensuring a safe and enjoyable outdoor space

Create a customized treatment plan for your specific needs
Ultimately, choosing Nuleaf's professional mosquito control services in Alexandria, Virginia, is a smart investment in protecting your family and enjoying your outdoor space without the annoyance and health risks associated with mosquitoes. Don't wait, contact us today and take control of your mosquito problem!
Lawn Disease Control Program in Alexandria, VA
If you're looking for effective lawn disease control services in Alexandria, Virginia, you've come to the right place. Our expert team specializes in providing top-notch solutions to keep your lawn healthy and disease-free. With our advanced techniques and extensive knowledge, we can ensure that your lawn remains lush and vibrant throughout the year.
We understand the importance of maintaining a beautiful lawn, and that's why we offer comprehensive disease control services tailored to your specific needs. Our lawn disease professionals will: 
Assess your lawn

Identify any existing diseases

Develop a customized treatment plan to address them!
When it comes to lawn disease control, prevention is key. We utilize the latest scientific research and innovative methods to proactively protect your lawn from common diseases. Don't let lawn diseases ruin the beauty of your yard. Contact us today for the best lawn disease treatments in Alexandria, VA!
Bermuda Grass Control in Alexandria, VA
Bermuda grass, a common nuisance in Virginia, can quickly take over your yard if not properly controlled. Luckily, our Bermuda grass control services in Alexandria, VA, can help you reclaim your lawn! 
Our Bermuda grass treatments utilize: 
Proven techniques

Specialized equipment

Expert customer service
With Nuleaf's expertise, we can eliminate current Bermuda grass and prevent its future growth. Contact Nuleaf today for the best Bermuda grass control services in Alexandria, Virginia!